AKTivity
Alumnicommittee: Alumni AKTivity Theatre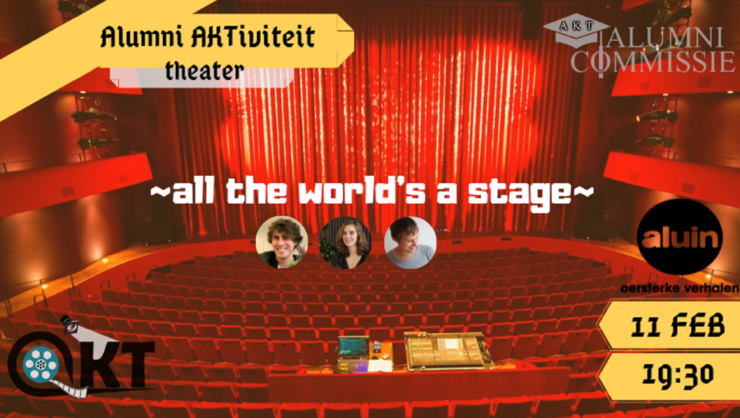 ---
Are you also curious about what the possibilities are after Media & Culture Studies? For our seminar series, we are organizing an AKTivity about each second-year course, and we are now organizing one for Theatre! Are you interested in the possibilities our studies provide for the working world of theatre? Then come to our Alumni AKTivity Theatre!
For this AKTivity we invited three alumni of our studies, who now work in the world of theatre. Who they are will remain a surprise for now, but we will reveal them shortly! The alumni will first tell us something about their job, and it will be possible to ask them questions. After that, there will be an interactive part where you can participate in a few exercises, where one alumni will be present, to even better understand what they do and to practice a little bit yourself…
So, are you interested in the possibilities of the working field of theatre, or are you curious about what these specific alumni are doing? Then come to the Alumni AKTivity Theatre! Signing up will be possible January 4. There is a limited number of spots available, so be sure to sign up in time! We already can't wait, and hopefully, we will see you there!
---
Please select a valid form
---
January

2021

Mon
Tue
Wed
Thu
Fri
Sat
Sun