GeprAKT
(Ssssssh… This committee is asleep this year. Hopefully it will wake up next year, filled with new AKT'ers!)
(GePRAKT 2018-2019)
The Cooking committee
geprakt@akt-online.nl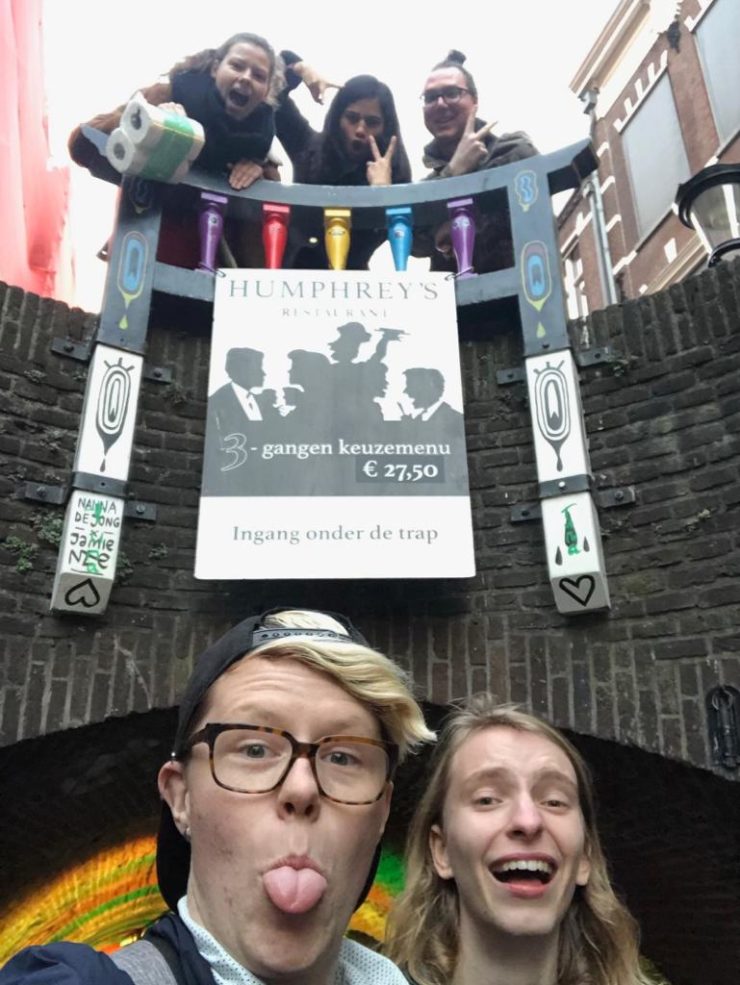 DINNER IS SERVED!
The most beloved sentence when your belly is rumbling and you've been imagining all your favorite dishes. But what if you want to hear that sentence more often? And what if there happens to be a group that can give you that magical sensation of flavors? Luckily there is GEPRAKT! This year we are very much looking forward to serve all sorts of different dishes for you and we hope that you're as excited as we are about food J All these fun activities cannot occur without an organization so that is why we hereby proudly present to you the new board of Geprakt 2018-2019:
Meike: Charman
Hello dear AKTers, Meike will be our chairman this year! She's very excited! Outside of the committee she loves writing poetry, watching shows, hanging out with friends and eating good food of course! See you at the first activity of GeprAKT!
Flora: Treasurer
Flora, as a transplanted Utrechtse, has magically served dishes in a lot of student houses but since she only has to cook for herself, she cooks a lot less. Yet this bookworm mainly manages to create very THICC sandwiches. Thanks to her function as treasurer in Geprakt, she is again able to produce culinary masterpieces to feed all AKTers. Flora is mostly awake at night but make sure you don't wake her when she is finally asleep. If you want to make her happy, try some pure chocolate bars, pizza, pasta with anchovies or fresh raspberries (but don't combine sweet and salt, bah).
Roos: Secretary 
This year Roos will take on the job of secretary at GeprAKT. She is 19 years old and originally from Utrecht. She is very proud of the fact she grew up in this beautiful city. Now she is in her first year of the study and she follows it in Dutch. She loves music, movies, series, traveling, cycling, cities, nature, and food. The last one comes definitely in handy at GeprAKT! Give her some pancakes or a piece of cheesecake and she will be very happy!
Ella: PR-Functionary 
Not a twitter queen but she sure can talk, this year Ella Kooijman will be the PR-functionary of GeprAKT (but pronounced in English because that rhymes better). Not a farm girl but she came all the way from 'het Fryske Lân' (Friesland), to organize the most exciting activities with food because that's what she loves! 19 years old and fond of films, music, and cats so if you are curious about how she is going to combine these things with food, come and find out by yourself J
Marijn: Activity coördinator
The activities coordinator of this year is Marijn van Dorp and with 18 years old the youngling of GeprAKT. Currently, she still lives with her parents, but would like to find a room in Utrecht as long as her four cacti fit in. She really loves chocolate peanuts and grilled cheese sandwiches (with curry and ab-so-lutely not ketchup). Actually, she doesn't bake and cooks a lot, but meanwhile, she is a pro making one person meal-size salads. Additional, her life purposes are becoming a complete Star Wars nerd, building a collection of movie soundtrack records and finding the ultimate grilled cheese recipe.