Events
Second General Meeting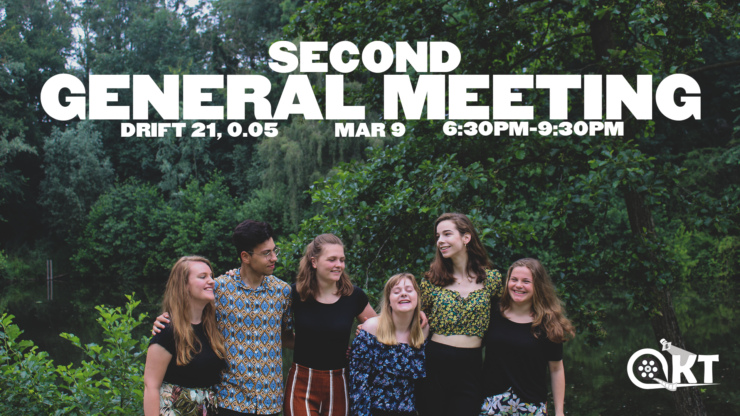 ---
It's that time again: the Second General Meeting (GM) of AKT. During this GM, we will reflect on the first half of the year by discussing the members' survey. In addition, during the GM we will explain how we are going to make the switch to another member portal, which will happen from March starting (do I hear an online member portal here? Yes you do!). There will also be a vote on the Member's Initiative.
Every year, AKT makes 100 euros available for the Member's Initiative. Members can use this money to organise an AKT AKTivity for fellow AKT members without being connected to a committee. So this can be anything, nothing is too crazy! In recent years, the AKT X AKTivity, the Dropping and a Beach Day have been organized with this money. Do you think you have a mega-good plan, sign up! Send an email to bestuur@akt-online.nl with your idea no later than February 23rd at 12:00 in the afternoon (note this is different from the newsletter!) and then you can pitch it yourself during the GM. (In case there are a lot of fantastic fantasies, we might already make a pre-selection). During this short pitch the intention is to get the other members as enthusiastic as possible for your idea. A vote will take place during the GM. We are really looking forward to your ideas!
We would love it if you would come to the GM and make your voice heard! After the GM it's time for the Monthly Borrel at 't Gras van de Buren. The new PLAKT will also be released here.
You will receive an invitation by email with the full agenda and documents.
PLEASE NOTE: the GM will mainly be spoken in Dutch. The prepared spoken text will be typed out in English and handed out to international members during the GM. This way you can read along with it. Votes will be explained in English as well as in Dutch. The Powerpoint will be in English. Questions can be asked in both languages.
Planning:
06:30 pm hrs: walk-in
07:00 pm: start GM
09:30 pm: end of GM and start drinks
---