InterAKT
Travel committee
interakt@akt-online.nl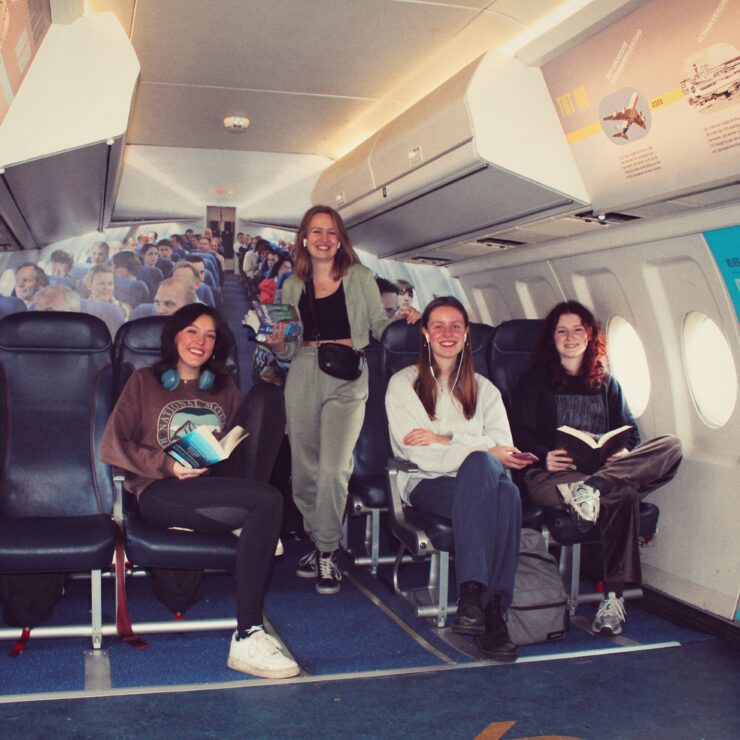 I'm Rikke, 22 years old and a 4th years media and culture student. This year I'm the Chair of the amazing InterAKT. If you could make me happy with something, it will be anything of the Italian cuisine. My love for this kitchen is so big that I often do a little dance of happiness while eating. (And no, I don't dance on the table but just a little shimmy while eating and sitting on my tre.) If I really must choose a favourite dish, it will be risotto. But because this takes quite some time, I often quickly choose a simple pasta when I cook myself. Oh and don't forget the Italian dolce, I always have room for that 🙂
Hi my name is Bente van den Bergh and I'm 21 years old. I'm currently in my third year of Media and Culture and this year's Treasurer of InterAKT. If I would have to choose my favourite foreign kitchen it would probably be either Thai or Sri Lankan. I love curries and noodles and in Sri Lanka specifically they have this dish called kottu. It's basically roti cut into small pieces with vegetables, egg and either meat, cheese or tofu and also a lot of spices. You should try it!
I'm Noa Reekers and I'm 19 years old. This is my first year of Media and Culture and I'm the Secretary of InterAKT '22-'23! My favourite kitchen is the Spanish kitchen! I also really enjoy Italian food, but for me nothing can top Spanish food. I've lived in Spain for a few months this year and one of my favourite things was the food.  I don´t eat meat, but sometimes I do eat fish and in Spain I kind of had to. But the fish was amazing. For example I loved gambas, which are big shrimps, or the paella de marisco, this is just paella with all sorts of fish. The tortilla de patatas is also really good, it´s just an omelette with potato and added vegetables (most of the time). But the best part of the Spanish kitchen is tapas. Tapas are little bites that you eat together, so if you´re eating in a tapas restaurant you just order a lot of bites and the best thing about it is, you can share everything! For me the best tapas are patatas bravas, these are little potatoes in spicy tomato sauce. I also love calimeras (onion rings), croquetas and gazpacho (cold tomato soup). This is why I love the Spanish kitchen!
Hi! I'm Rosalin Wijdeveld and I will be this year's PR-Official of InterAKT! I'm 19 years old and this is my first year of Media and Culture. I love Greek and Italian food but my favorite country for food would have to be Japan! Of course, I'm a big fan of sushi but you can wake me up for gyoza anytime! I also love to try all sorts of different flavors of ramen and I would love to go to Japan to try even more. When I'm at home and I don't want to spend a lot of time cooking but I do want something tasty, I always make katsudon! It's fried pork breaded with panko, with egg, vegetables and rice. Super easy but also super nice!