InterAKT
Travel committee
interakt@akt-online.nl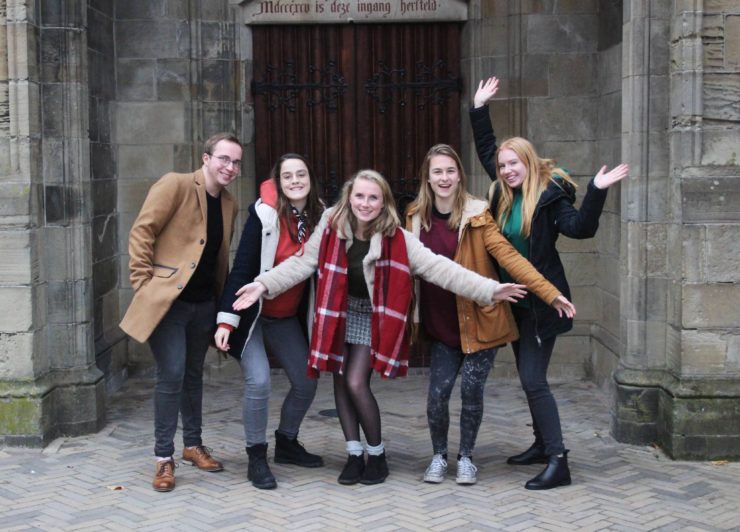 Hello hello, dying to know who will be organizing the Annual Study Trip and the hitchhiking competition? Great, you are on the right track. I proudly present to you the new members of InterAKT.
Hey, familiar face? Yep that's right. Lynn, last year's secretary of InterAKT, now got upgraded, with the result that this year she may call herself chairman! Lynn is a member of the student rowing-club of Utrecht, but in the winter that isn't the best idea, because she gets cold very easily. Furthermore, she works at a Belgian beer cafe located in an old church (interesting combination) and she has a weird taste for German songs. Side note, Lynn is happy to wake up people with those…
Second to be mentioned is Charlotte! Her favorite animal is a lion "because that's my constellation." She has a strong sense of responsibility concerning money and looks, what a coincidence, she happens to be our treasurer! Oh aren't we such lucky bastards! Charlotte is very competitive and says herself that she would rather be cheating than losing… Sooo, it might be an idea to think twice before starting your monthly game of four in a row. Just sayin'.
After a year of working very hard playing the role of a communication officer, Yanan will be taking minutes during our meetings being the new secretary. She really would like to visit Australia and New Zealand sometime in her life, sadly enough that's a little bit too far for the study trip (sorry!.. or do you maybe want to pay?). Furthermore, chocolate = life, she loves to sleep in and memes and vines are her favorite.
Roel will be fulfilling the position of the communication official this year. He comes from Rotterdam, "well, not really," but he feels like one of them so that's fine. Roel is a big fan of Peaky Blinders and Game of Thrones. Additionally, he loves to listen to music and plays the guitar himself. Acoustic as well as electric… WoW! *insert guitar sound*
And then the last one of the five is Meta, being the new PR official, whoop! Meta is as happy as a child whilst walking around in the Dutch theme park the Efteling and is secretly a big fan of the Dutch artist Nielson. She will laugh the hardest about slips and sometimes at her own jokes too #sorrynotsorry. Her whole life, she has been begging to get a dog, a golden retriever, unfortunately, she will have to live with cute Instagram posts. Tags are very much appreciated.
Tadaaa… That wraps up InterAKT for 2018-2019! Gezellig! (You know, that Dutch word without translation? Yeah, that one.) Doing chilly Lynn a favor, our destination for the study trip in April 2019 will be the o-so-tropical dutch island Texel! Nice, see you there.