Kampcie
Camp committee
kampcie@akt-online.nl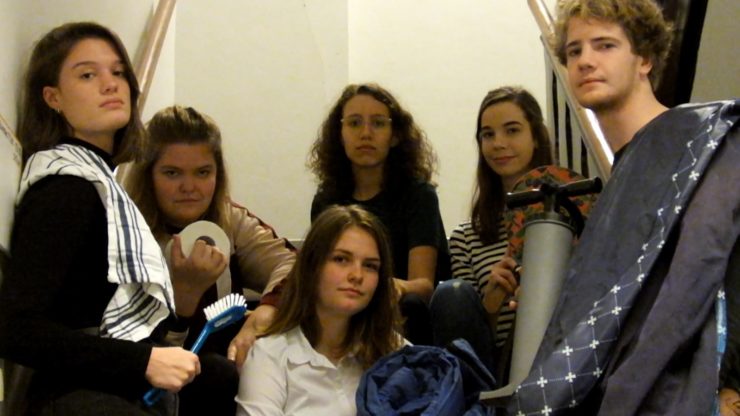 Kampcie
Hi there! We're the brand new Kampcie of '18-'19. The fact that we're all new in this committee doesn't mean that you should underestimate us! If you don't believe us, just take a look at our best (and especially our worst) camping experiences.
Nikki – Chair(wo)man
After finishing my final exams, my classmates came up with the idea to organize a bonfire in someone's backyard. We celebrated the end of high school by throwing all of our old books, notes, and unnecessary assignments into the fire. After that, we slept right next to the fire under the stars. Unfortunately, the hot sun woke us at 7 in the morning. Despite that, it was my best camping experience, but as a chair(wo)man I'll make sure that we won't have to sleep under the stars at the introduction camp.
Senna – Treasurer
Hi! I'm Senna, and as treasurer, I'll make sure the camp won't be as miserable as my worst camping experience was. Of course, going camping with a group of 15 year olds is asking for trouble. But to make matters worse, the sky decided to drop some rain onto our leaky tents. Non-stop. For three entire days. It was traumatizing, to say the least. But don't worry! With my budgeting, this camp will be a safe, warm and above all an unforgettable experience.
Elle – Secretary
My whole life, I've spent vacations at multiple camping sites, each time in a different corner of France. Air mattresses with leaks, constructing our tent in the pouring rain, various plagues of various insects, neighbors with wailing kids: been there, done that. Still, I've had the time of my life when camping, because there's nothing better than that free life. The many many amazing – and few terrible- memories will always be there in the back of my mind and as the official new secretary of the Kampcie 2018/2019, I can't wait for all the new great memories I'll make this introduction camp!!
Maud – PR
Hi! I´m Maud, 18 years old and I´m the PR of the Kampcie 2018-2019. The last time I went camping was a disaster. I forgot to take down my beach towels from the roof of my tent. That resulted in the fact that at 5 am, when I came back from partying, I couldn´t stand in my tent anymore. As soon as I realized I stood in the pouring rain removing four soaking wet, heavy beach towels. Luckily, we aren't going to sleep in tents at the introduction camp.
Eva – Activitycoördinator location
The first time I went camping I was about two years old. What you have to take in mind with this story is that we spent the night in a caravan with pretty steep stairs to get into the caravan. I was obviously two years old, so I didn't really know how to properly walk the stairs yet. Well, that failed terribly. One day I tripped so hard that I landed with my little nostrils on the edge of a step. Unfortunately, after 16 years, I still have that horrible scar under my nose. Thanks, caravan.
Youri – Activitycoördinator games
Hey hey, my name is Youri! I will be the activitycoördinator of games for the Kampcie 2018-2019. When I look back on my favorite "camping" experience I think of a school trip while attending primary school. I tried to document everything on that trip with a cheap camcorder camera, YES I WAS THAT KIND OF KID.  Sadly, the camera died because too much sand got in the camera. That camera was my friend, I still miss him…every day…
Rest in peace Camera…I will never forget you.