Kampcie
Camp committee
kampcie@akt-online.nl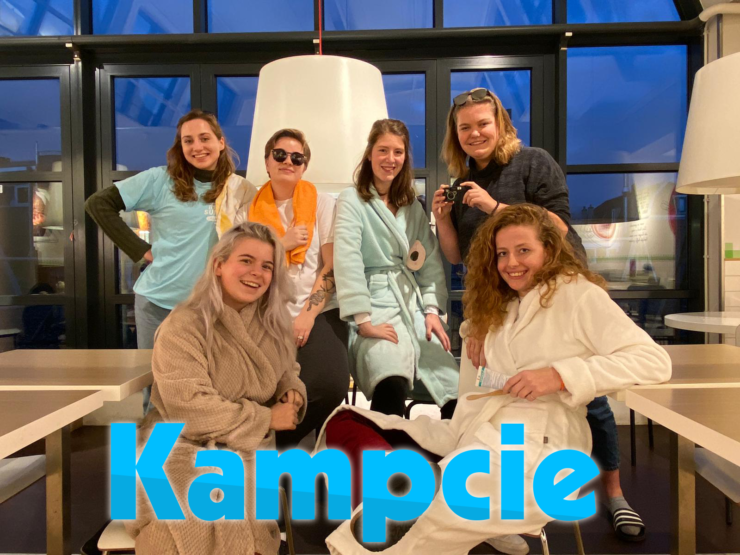 Hey there! We're the Kampcie of 2019-2020. We're ready to dive in our committee year to organise a pretty amazing introduction camp. We'll introduce ourselves using a camp attribute down below, so you can get to know us even better!
Maud – Chair(wo)man.
I think I am a camping light. The regular camping light won't work when you want it to, but if it finally works you'll be happy that you have it. I always forget names and faces and I often find it hard to find words to form a sentence. I compare these things to the flickering light of the camping light, that won't shine consistently. But there is a moment (don't ask me when) you don't want to lose me anymore and that's of course the moment when the camping light leads you to the toilets on the camping. To summarize, such a camping light is a mess, just like me.
Sophie – Treasurer.
Hi hi, I am Sophie, the treasurer of the Kampcie, and I identify most with a tent. Not just a tent, no, a large one, with many compartments. The best of the best, that's me. You simply can't go camping without me! I am necessary for a camping visit to be successful, certainly here in the Netherlands, where it can be raining cats and dogs. I am occasionally a bit unstable, but unfortunately tents can be that too.
Eva – Secretary.
I always feel very connected to a disposable barbecue. Even though you know better, you always bring one of those things, despite knowing it's going to be a battle. Full of enthusiasm you start preparing your dinner and it all seems to be going well. That is until you notice the barbecue is starting to burn out and your chicken wings are far from done. You usually do end up with good food and next time you once again bring the barbecue. I'm kind of the same; I start everything with lots of enthusiasm but after a while you really start to notice how chaotic I am and how quickly I lose my concentration. I end up giving a good result but it is not a linear process.
Nova – PR Official.
Hi, I'm Nova, the new Pr-official of the Kampcie. So, I would identify as the folding chair your dad would bring to sit on during a failed attempt to go fishing. I'm small and efficient, easy to carry or to put in the trunk of your car. You can easily flip me in and out and I will always stay with both feet on the ground. Unless some obese guy comes and sits on me. Besides, I will always have room for another beer.
Julia – Coordinator of activities: location.
Hiii everyone! My name is Julia, the new coordinator of location. I don't go camping very often but during some storms at festivals I went to with a teeny tiny tent, I realized one camping attribute is essential: the herring. You'd almost forget these little things but they are of the utmost importance because they hold the tent tightly to the ground. This, of course, will immediately remind you too of my unique position in the Kampcie because by making sure everything on the location is alright, I ensure that our tent (the camp) together with all of our efforts won't fly away.
Vera – Coördinator of activities: games.
Heyy my name is Vera and you can also describe me as the travel insurance you forgot to get. The bussy studentlife causes a lot of chaos in my life, and that often results in me forgetting or losing things. For example, I regularly wear two different printed socks, because I can't seem to find the matching pair. Besides that, I have a lot of better stuff to worry about, such as the fact that I lose my soccergame every single weekend. Fortunately, chaos is ususally accompanied by a lot of new and creative ideas, and I can't wait to use all of my creatieve ideas within my function as Gamecoördinator of Kampcie 2019-2020!