Board
Indescribable …
Dear Media and Culture students,
I am the treasurer of AKT, Fons. I have a passion for movies, like more of you will have. My favourite genre is heist-films, with as favorite movie Inception. I also enjoy watching movie series like Harry Potter or the Marvel Cinematic Universe. Besides my interest in media I am active as a scout, both as a member and as a leader. I am now one active as a member of AKT, which I enjoye very much! In the last year I particepated in several fun AKTivities and I acted as a commission member.
I love watching and making movies! I'm a big fan of animation and I love music! With such a wide range of interests I'm super easy to talk to, because I get so enthusiastic while talking about this! I love meeting new people and finding new friends! My secret passion is in neuroscience, so don't be afraid if I try to analyse a movie character! This is also the reason why I'm almost always rooting for the villain…This board year, I will try to focus on inclusivity, so that everyone, no matter the shape, size, gender, descent, will feel welcome in this amazing little community! I will fight for every single voice, because I think it's important that even the smallest voice is heard! So don't hesitate to come talk to me!
Hii,
I am Rikke Renes and this year the PR officer of AKT. I will mainly be the working force behind the Instagram and Facebook page of AKT and I will also take care of the member platform Codex and the website. I really like to have "gezelligheid"/fun with my friends while enjoying food. Besides that,  I also dance all day long. So, if you ever see a blonde girl dancing on the streets of Utrecht, there's a good chance it's me. So if you feel like having fun, a conversation partner, laughing and/or dancing, slide into the DM's, text me, call me, carrier pigeon is also allowed, …, nothing is too crazy for me :).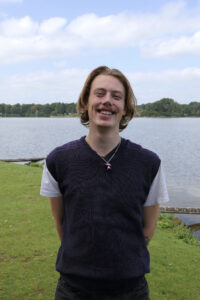 Max Baalman
Commissary Education and External Affairs

Ayo, my name is Max, I'm 20 years old and the commissaries education and external affairs. This title is really long but it mostly means that I am keeping contact with all the organization with which AKT works. From the university to the companies where you can get the sweet discounts.
Although you do not come in touch with my board tasks the same can not be said about me as a person. I am an energetic and enthusiastic person who loves to be social. I love everything related to culture: music, film, theatre and games. I also like going out and playing boardgames. Do you also like any of these things or something entire else, tell me about it and I will be interested.