Board
As well as a lot of enthusiastic members, every study association needs a board to make sure everything works out. The board is in charge of everything pragmatic and the AKTivities. We keep in contact wist other Study Associations, Utrecht University and teachers of our study. This year our board consists of six members: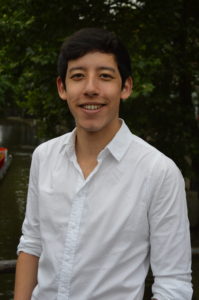 Kevin Postma – Chairman
Meet Kevin, also known as I am Kevin. That's me. This year he will be chairman for AKT. This widely loved guy is always in for a good talk, especially while enjoying some nachos. With his kind smile he will make sure that everyone is having the time of their lives. Should you ever feel like going out after having had drinks with us (as we do monthly in our favorite pub), Kevin is your go-to-guy. He'll never pass on more drinks. Kevin is a friend to everyone and will, with his eternal positive energy, make everyone feel welcome.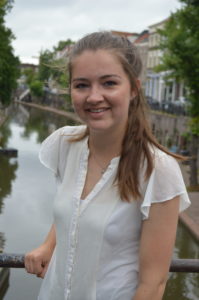 Ilsa Cornelis – Treasurer
Ilsa will be our treasurer this year, meaning she will protect AKT's money with her life. This theatre addict that grew up in Eindhoven has seen every musical that you can think of, and is not afraid to get up on stage herself either. You can visit the AKT office anytime to sing Disney songs with her, she'll know all of them! Ilsa works hard, she is precise and will easily give her opinion. She is somewhat of a mother figure who, while enjoying a beer, is always up for a good conversation about life, and she will cheer you up instantly from her sweet (but honest) advise. She only really has one enemy: birds.
Anne-Florine – Secretary
This is Anne-Florine, but you can call her Anne-Flo, or Flo, or AF if you really like her. Flo is AKT's secretary this year and will therefore keep our mail, our e-mail and our meetings organised and neat, so that we'll be able to fix lots of fun deals and AKTivities for your guys. Flo is slightly in love with penguins, but would find a trip to the South Pole quite cold, so she won't go there any time soon. Flo is one of the most organised AKT'ers ever, which is one of the reasons she'll do here job so well this year. You can have a laugh with here about here occasional existential crisis, and she's always in for a Mario Kart competition at the office!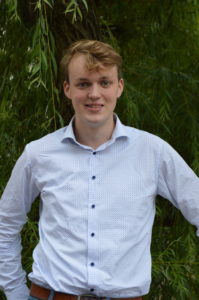 Frank Wever – Commissary of PR
Frank will fill the position of PR Official this year and thus make sure that all of AKT's social media pages will be full of photo's, updates and other cool posts. He's a real go-getter and will do anything to ensure that every single AKT'er is up to date about AKTivities and other news. Frank is enthusiastic and spontaneous that will stun you with his collection of Happy Socks. At parties or casual get togethers you will most likely see him with a glass of wine in his hand, as a real connoisseur he'll never pass on a good class of wine. He can organize a party like no other, and knows very well that no party is complete if Sterrenstof by De Jeugd has not been played (learn the words before you meet him and he'll be your best friend). He might be tall and intimidating, but Frank will always be ready to help anyone in need and he's friends with anyone in no time. Feel free to come up to talk to him anytime, with or without a glass of wine.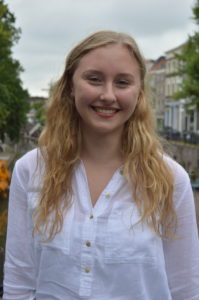 Laura Vrooland – Commissary of Education
Laura is our very new Education Commissioner for the 39th AKT Board. A lack of enthusiasm will most certainly not be a problem with this 19 year old from Zaandam that will welcome every new Media and Culture student very warmly this year. With her positive energy she will lure anyone to our office for a good talk or a hug if you need one. You can wake her up in the middle of the night if you give her peanut butter with pieces of peanuts in them, because peanut butter without little bits of peanut is really not comparable. Still not convinced? Challenge Laura for a dance battle at the office, because she can dance like no other.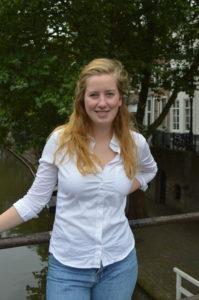 Eline Spit – Commissary of External Affairs
Meet Eline, this year's Commissioner External, which means she will try her very best to get you awesome deals zo we can all go visit the coolest media related companies and can have ice cream for ridiculously low prices. Elephants are very high on Eline's list of favorite things and she would love to see them when they are not in a cage. This is actually something that fits very well with the favorite hobby of our CE: travelling. If she can, she'll visit every country on Earth. Additionally, Eline is a very hard worker, a friend to everyone that you can always laugh with. In need of a good cup of coffee while waiting for your next lecture? Eline will join you anytime!
Liefs,
Kevin, Ilsa, Anne-Florine, Frank, Laura en Eline