Board
As well as a lot of enthusiastic members, every study association needs a board to make sure everything works out. The board is in charge of everything pragmatic and the AKTivities. We keep in contact with other study associations, Utrecht University and teachers of our study. This year our board consists of six members:
Hi, I am Chiara Stam and this year I will be fulfilling the role of chairman for the 40th Board of Study Association AKT. As chairman, I strive to be a point of contact for everyone within the association in order to make it a fantastic year. In addition to studying and AKT, I do theatre and I'm also a huge book nerd. I'm also always up for a nice chat, so don't be afraid to chat with me during an AKTivity, a
coffee hour or perhaps even better: a lunch date. Oh, and challenge me to a game of Disney trivia, I'm a fanatic!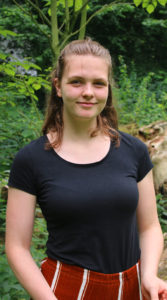 Nikki te Grotenhuis – Treasurer
Hi there! My name is Nikki, also known as the down-to-earth farmer from the East of the country. You'll probably see me every once in a while with my debit card at AKTivities, but behind the scenes I will be very busy as the treasurer of the AKT board. Besides being a treasurer, I also have a lot of hobbies that haven't to do with money. 😉 For instance, I'm a very energetic dancer, especially in the
club and my choreo's never remain unnoticed. So if you're up for a dance, you know where to find me!
Hi, my name is Elle, the new secretary of Study Association AKT! You might have seen my name in a few mails you recently received. When I'm not mailing, taking minutes or planning my life, I love visiting and participating in theatre. I can spend hours and hours on the biggest online clothing stores/in cute vintage shops and I'm exceptionally well educated when it comes to FRIENDS (the board game in my room is proof). I'm always down for a wine or coffee date, which I'll enthusiastically note with various fun colors in my amazingly elaborate planner/agenda. When are you available? 😉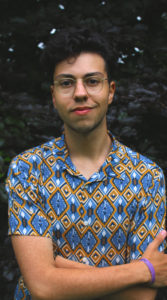 Stuart Engelhart – PR Official
Hey, I'm Stuart! But you can call me Stu! This year I will be the PR Official of the 40th Board of Study Association AKT. This means that I will be handling the promotion of our AKTivities and our presence on social media platforms. So don't be surprised to see my face or a friend request on your feed 😉 Besides my board duties I like fashion, music, moderate puns and memes about AKT members. Like a true AKT member I'm always in the mood to party, but you can make me even happier with a glass of wine and a nice conversation until the late hours.
Kaat Prinsen – Commissary of Education

Hai, my name is Kaat and I'm the Commissary of Education for the 40th AKT Board this year. As a born and raised Utrechter I'm very excited to introduce this beautiful city to you guys! I love documentaries and I'm always down to go to a party (or ten). You can always get me on board to go to a terrace where we can chat about everything while eating nacho's and drinking a beer. I'm always
kind of the "mom" in a group of friends and will always be here for advice if needed. I'm veeery excited about this year with you guys, it's going to be great!!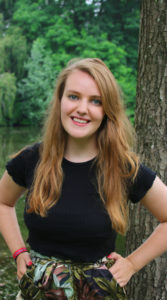 Berne Vendel – Commissary of External Affairs
Hi I'm Berne Vendel and i am Commissary of External Affairs of the 40th Board of Study Association AKT. As the commissary of external affairs I will be busy fixing commercial and cultural deals, so I can hopefully make your life as a student way cheaper ;). Next to that I will maintain the external contacts, so I am often socially engaged. So don't be afraid to have a chat with me at a borrel or AKTivity, even though I will probably chat with you first because that's what I like to do hihi. I am looking forward to next year and totally ready to play a lot of games with you guys (playing games is my thing, just so you know).
Liefs (as we say in Dutch),
Chiara, Nikki, Elle, Stuart, Kaat and Berne