Board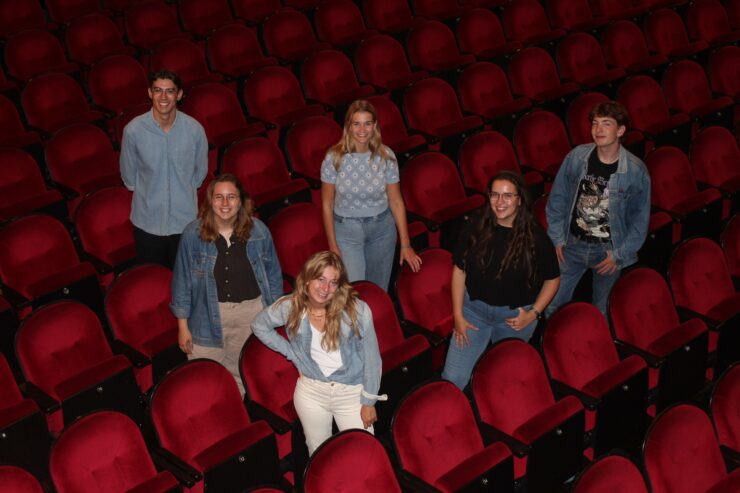 AKT-board 2022 – 2023
My name is Fé and I'm 21 years old. This year I will be the chairwoman of the 43rd board of AKT. As chairwoman I will try to make everything run smoothly both inside and outside the board. I'm always open for a chat and I'd like to think that I can give good advice so stop by the AKT Living room or call me whenever. I love listening and discovering music; I also play piano myself. And of course, I love watching movies and series (which might be obvious as M&C'er). My favourite movie is Ratatouille. It's about food and Paris! What's not to like?! I'm also a sucker for romantic comedies. Last year I joined the InterAKT committee, and I had lots of fun planning the big trip with my fellow committee members. That is why I wanted to take it one step further by joining the board. Hopefully it will be just as fun. I'm looking forward to seeing you all at the Aktivities this year!!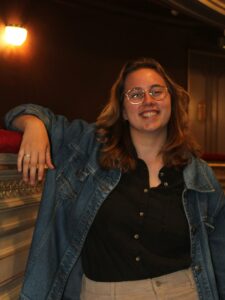 Fabienne van der Aar
Treasurer 

I am Fabienne, AKT's treasurer and part of AKT 43. I am in my third year studying Media and Culture and I like to spend my free time by going to the theatre, watching films and going to concerts. My favourite film since I was a kid is Toy Story, and my favourite show is Killing Eve. When I started studying at the University, I felt quite overwhelmed and our study association AKT has helped me a lot by figuring it all out. I look forward to helping new AKT members by figuring it out as well and to let them experience the great AKTivities we will offer this year. Will you be there too?
My name is Marit and I will fullfill the role of secretary in the 43rd board of AKT. I am 20 years old and currently live in Vleuten (a neighborhood of Utrecht). I'm really looking forward to lead AKT for a year with my fellow boardmembers! In my free time I like to do things with friends and/or family, like; playing games, baking, going on vacation, watching movies, dancing, have realll bad karaoke moments…, playing some volleyball every now and then, and so much more! There's actually not that much I don't like haha. I am a good listener so come talk to me about anything! A book that you've read, your favorite music (I like to discover new artists!), a series you've watched or of course your favorite movie!
My name is Trix and I am AKT's PR-Official this year, the driving force behind all of the association's social media channels! On the Instagram account @AKTisAKT you will be able to admire my Photoshop skills. My passion for photography and videography comes to life when I'm traveling; I spend almost all free moments in a year with city trips or faraway travels. When I'm in Utrecht, I love chilling and picnicking with friends in a park. If the weather isn't great, I like to discover new movies in the cinema or I watch a movie at home; this is almost always Notting Hill (which I can almost quote in full ("whoopsiedaisies")). Because of all the fun moments during my first academic year, my motivation to do a board year in my second year was very high. I wish all new students and members a welcome as warm as I had, because that's what makes the start of your studies so much better!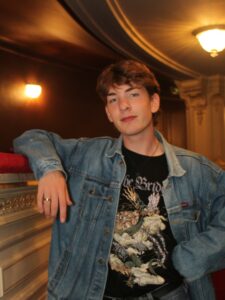 Thom Hulshof
Commissary of Education

I'm Thom, the 43rd Commissary of Education of the most fun study association of Utrecht. I am 20 years old and was born in Groenlo (a little fortified town in the east of Gelderland). Next year I will help with all study related issues within the association. Come and see me if you are dissatisfied with a course or a teacher, if you want a discount on books or if you would like to participate in a guided tour (also recommended for students who are already studying). Also, stop by if you want to chat about Phoebe Bridgers or Taylor Swift, take a nice walk through Utrecht, watch a movie at Louis Hartlooper (like Bergman Island) or do some second hand shopping!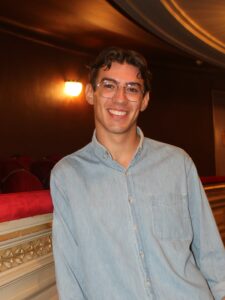 Frank Woutersen
Commissary of External Affairs

My name is Frank and I'm this year's Commissary of External Affairs. This means that I will keep myself busy with making and maintaining deals with multiple companies and organisations. Soooo… did you know you can get a discount on Domino's pizza or the Poolcafé Hart van Utrecht? Outside board life, I like to go to clubbing with friends or to have a good time partying. Besides, I love to completely lose myself in some good music – which differs from Justin Bieber (beliebers hit me uuuup) to a style like dream pop. My favourite movie actually has a lot to do with music: it was made pretty recently, but Bohemian Rapsody never fails to excite me!