Honorary Members of AKT
We proudly present our first honorary members.
Dylan and Lazlo (voted in on 22.06.2021).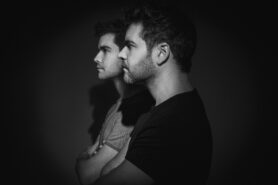 Dylan and Lazlo are two alumni of the Theater- Film- and Television Studies program (that's the former name of Media and Culture). Of course, they became members of AKT during their studies. During their studies they started their own film company Dyzlofilm. Nowadays Dylan and Lazlo come as experience experts to tell the members of AKT about their film company regularly. They introduce members to the field in a fun way by sharing their experiences with them and being open to any questions students may have. Given the fact that Media and Culture is a fairly theoretical study, it is valuable for students to get this knowledge and advice from alumni who have gone before them. With this, Dylan and Lazlo offer an opening to the practice that is very important for students. We are very grateful to Dylan and Lazlo for always being open to come and bring that practice to the students. For example, we recently hosted a film screening of a documentary by Dylan and Lazlo, Galore, followed by an educational Q&A. In addition, Dylan and Lazlo are loyal sponsors of the AlmanAKT, something we at AKT also greatly appreciate. For all these reasons, Dylan and Lazlo are now our first Honorary Members!