AlmanAKT
The Yearbook committee
almanakt@akt-online.nl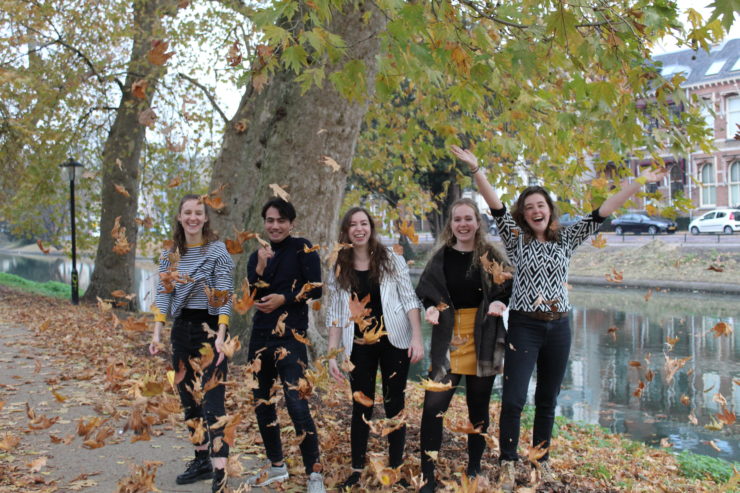 It is common knowledge that the AlmanAKT people prefer to be behind the camera. That's why we'll once again do everything in our power this year to eternalize all the beautiful AKT'ers in the yearbook, whilst being on the picture ourselves as little as possible. Our motto isn't: "AlmanAKT. Cause we're not photogenic ourselves." for nothing! But who are these people hiding behind the camera?
Sofie, as chairwoman and AlmanAKT-veteran, will lead us in the right direction and make sure a wonderful yearbook will emerge from the chaos. Despite her difficult last name, this Portuguese beauty has been in the national papers multiple times and in addition, her history teacher was none other than JORTgeschiedenis (famous for his YouTube-videos). If there would have been a room available for rent in the Fairytale Forest in the Efteling, Sofie would want to live her immediately, as long as there's a good internet connection, so she can watch her favorite Disney-films.
Opposite our fiery Brabants-Portuguese with a dislike for cold, we have Wietske as a true northerner. This Frisian woman from Overijssel loves being in the water, regardless of the season: when it's frozen, she skates, and in the Summer, she flies across the water on water skis, as her fingers fly across the keyboard during our meetings. As secretary, nothing makes her happier than when we take a dessert break during our brainstorm sessions: not just for updating the minutes, but also because she is a huge sweet tooth.
Loïs also has a weakness for chocolate, particularly Tony's Chocolonely's sea salt caramel: if you want to get that double chin picture taken off the Wall of Shame, you'll know how to bribe our designer. But don't be too early: Loïs is bad at getting up in the morning, especially for classes that start at 9 am on Monday morning, she won't get out of bed. If you see her, she'll probably be on the bike that she's had since she was at primary school, for she hasn't grown much since then.
However, don't confuse her with Veerle: besides their beautiful curls, their outfits match all the time. Veerle is from 't Gooi, but she is no snob! As treasurer, she will probably have to contain herself to spend the entire budget on plants or Happy Socks. Veerle, just like Wietske, loves to dab from time to time, which will lead to disapproving looks from the rest of the committee. When Veerle isn't buying plants or dabbing while posing for photos, she loves watching horror movies and shows.
Watching movies is also one of Koen's favorite hobbies, even though he prefers watching movies like Spirited Away or Django Unchained. As the only male and youngest member of the committee, he will be able to unload all his creativity as PR, so if you encounter a Vine-reference or cute animal video on the AlmanAKT-Facebook, you'll know who it's from, as Koen is a huge fan of both!