AKT on Screen
Film-, television- and new mediacommittee
aktonscreen@akt-online.nl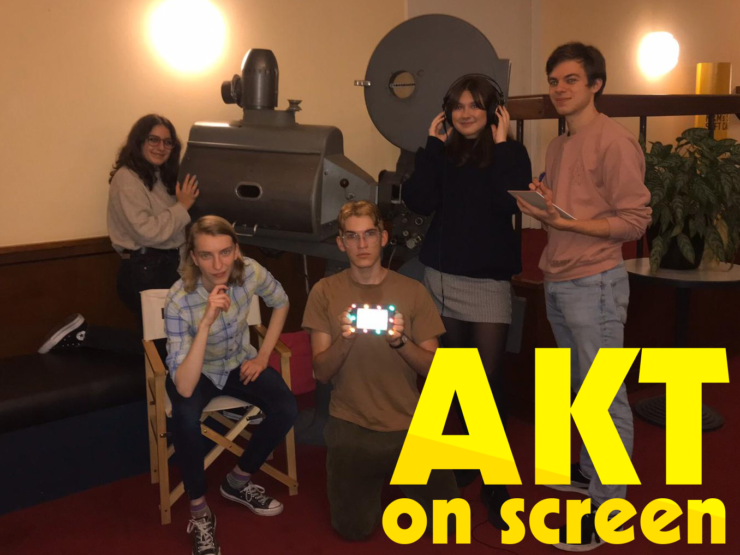 Hey everyone, we are AKT on Screen '19-'20 and would love to introduce our committee members Marijn, Julius, Artem, Catherine and Vero! Firstly, our chairwoman, Marijn was born in Utrecht, raised in Culemborg, is currently living in Utrecht again and in her second year. Obviously, she decided to do the trajectory film. Marijn is definitely a fan of the original Star Wars trilogy. NOT the prequels. "The new trilogy is quite all right though." Besides that, she also has an interest in pop culture and mass media in general, even though she barely watches TV anymore and doesn't have any social media…
Julius will be AKT on Screens treasurer this year! He's now in his third year and has chosen the trajectory new media, because he loves anything related to it and has been using a lot of new media since he was just a little boy ("which I still am actually"). He also loves movies, so much so that he works in a movie theatre here in Utrecht! His favourite movie has to be Baby Driver (he also loves listening to and making music).
Then, Artem is originally from Russia and is also in his second year of studies. He is going to be the secretary for AKT on Screen! He loves anything film and TV related and the cinema experience is very fun for him (which is why he's in AKT on Screen). He has around 20 movies on his favourites list and it's very difficult to pick a top 5, let alone only one, so don't even ask. According to him, he's "very excited to create things with the committee!"
Next there is, Catherine who is from Edinburgh, Scotland and has lived her whole life there until moving to Utrecht last year. She is also a second year student who has newly joined an AKT committee and will be in the role of PR Official. Her interests lie in film, TV and new media (surprise!). She loves films across many genres but has ranked her favourite film as Burlesque for the past 6 years, "this is not likely to change anytime soon." Catherine is looking forward to this years committee and is excited for the things to come.
Last but not least we have Vero, this year's activity coordinator. Vero is from Mexico City but has moved around different countries her whole life. She also studies alongside the others in second year. Vero loves all kinds of movies and TV shows, and spends most of her procrastinating and non-procrastinating time watching either one or the other, that is when she isn't busy scrolling through Netflix deciding what to watch because the amount of options are overwhelming. She's interested in film, but mostly television (nothing new here…). A TV show recommendation you will always get from her is That 70's Show. "The perfect show to watch when on a food coma".
Anyway, we're sure this year will be awesome! See you at our next AKTivity 🙂