AKT on Screen
Film, television and new media committee
aktonscreen@akt-online.nl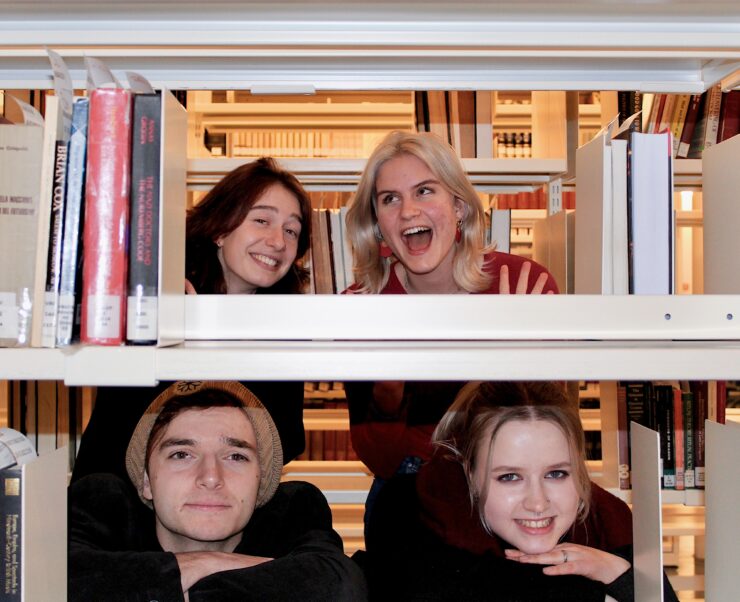 Hi, we are Sima, Lisa, Sander and Bo; together we are the new members of AKT on Screen. At AKT on Screen we organize all kinds of activities related to film, television, and new media, as long as it has something to do with a screen! We are all big film and tv fans, so we can't wait to organize activities to share this with you. Hopefully we will see you at one of our activities!
Hi everyone! I'm Bo third year student and the new Chairwoman from AKT on Screen. I absolutely love all kinds of stories from film, television, books to podcast. But a few of my favourite stories to watch on screen are Fleabag and The Marvelous Mrs. Maisel. What I really like about screens is that they are a wonderful way to create a window into another world. I really look forward to organizing activities to experience these worlds together.
Hey! My name is Sima, I'm a first-year student and the new Treasurer of AKT on Screen! My therapy is escapism and being a part of this committee allows me to create all kinds of events that are related to my favourite cinematic universes! My favourite films are, of course, Harry Potter and the Prisoner of Azkaban, Danish Girl, and the Addams Family. I also love editing videos and creating my own stories, whether it is through short films or even through makeup. I'm really excited to be a part of this committee and organize more events for you guys!
Hello! My name is Sander and I'm a second year Media and Culture student, currently specializing in Filmstudies. I'm the new AKT on Screen Secretary, but I make no secret of the fact that I can passionately adore contemplating on every single detail of a film, or other work of art. I am fascinated by how ideas, stories, and messages are and can be conveyed between people. Ways in which they can increase understanding of a particular perspective, or just be aesthetically pleasing or philosophically inspiring, captivate me. Different media can unite and enrich our lives, and this is exactly what I hope to achieve by actualizing screen-related activities together!
Hi, I'm Lisa, PR-Official of the AKT on Screen committee! It is a pleasure to be part of this committee this year. I joined AKT on Screen because I am a big fan of film and tv. Some of my favourite films are The Truman Show, Get Out, Abre los Ojos and Don't Look Now. I wasn't planning on joining a committee in my first year on Uni already, but I am glad I did as my fellow committee members are amazing!