PLAKT
Magazine committee
plakt@akt-online.nl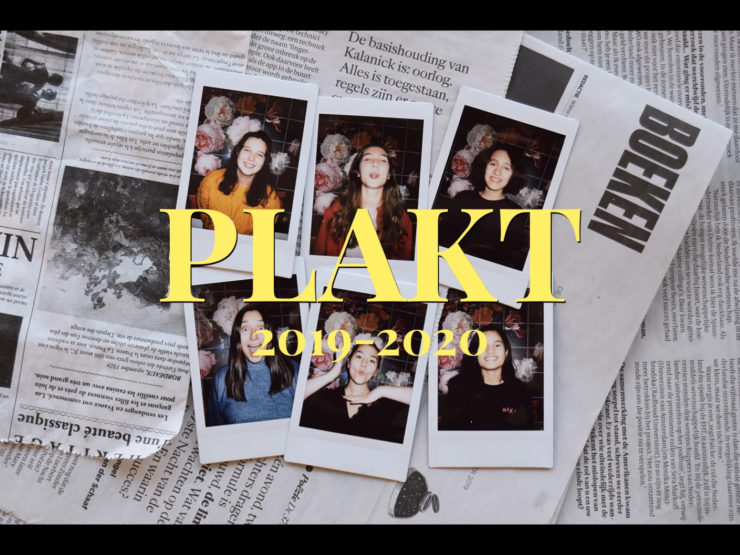 There it is! The new PLAKT committee for 2019-2020 you have all been waiting for. Get ready for more interviews, columns, reports, stories, covers and photoshoots! We, Maaike, Klaudi, Anne, Lucy, Ella and Senna, are already excited for the approaching year. But we wouldn't be PLAKT if we hadn't already prepared a first literary gift for all of you… Therefore we've created a little library filled with our favourite things to read, so scroll on and take a look. For now, we'll be busy creating the next PLAKT, but we'll see you in February! And don't forget to return these books! This is a library, remember…
Hi, I am Maaike and this year I am the chairman of PLAKT!
As some of you might know I am a huge Harry Potter geek, yes I even have an ACTUAL WAND (yew wood with a unicorn hair in the core, 18 cm tall). Who doesn't need a little bit of magic in their life? My aim for this year is that the 4 PLAKTS which we will release will give that little spark of magic in your student life 😛
Hello! My name is Klaudi, I am 20 years old and I am from Czech Republic. I am the secretary of the committee of PLAKT! If we will go on a walk together I will point at least on five dogs and right after run to the owners to gain the permision to pet them. And don't let me even start when I see a cat. My "must read" is definetly any book from Agatha Christie and if you never read anything from her yet, I really recommend to start with "The A.B.C. Murders"!
Hi! My name is Anne and this will be my second year in PLAKT as the PR-official. As we have a great new committee, I'm looking forward to the upcoming months! What I'll also be doing this year is reading and learning more from one of my favourite books: The Things You Can See Only When You Slow Down by Haemin Sumin. If you're interested in mindfulness as well and need a little more peace in your life, definitely read it!
Hi, my name is Lucy. If I could describe myself with a book, it would be "The Secret Diary of Hendrik Groen". Why? Because sometimes I believe there is an 83 ¼ years old lady living in me. Who, just like Hendrik, is sarcastic, have a limit on social interactions but not on movie nights with a warm blanket, and enjoys a good laugh (especially from her own misery). Contrary to my inner grandma – I know how to use a computer, so this year I've taken up a web-editor function.
I'm Senna, and I'm designer for PLAKT this year! One of my favourite books is Call Me By Your Name. It's also one of my favourite films, as you might have noticed. (For those who haven't: our committee video is inspired on its title sequence). This year, I aspire to be as passionate about designing the PLAKT as Elio is about peaches.
Hey!!! I'm Ella and I'm a designer for PLAKT as well 🙂 My favorite books would be the series of 'The Mad Witch' (translated from Dutch: De Boze Heks). The short stories are about the creatures living in the forest might be childish, but I still find them fun to read. Also, the Witch has explosive reactions and she is chaotic, which I think is quite funny. So if you want a short but sweet story, I would recommend these series!