Feessie
Party Committee
feestcommissie@akt-online.nl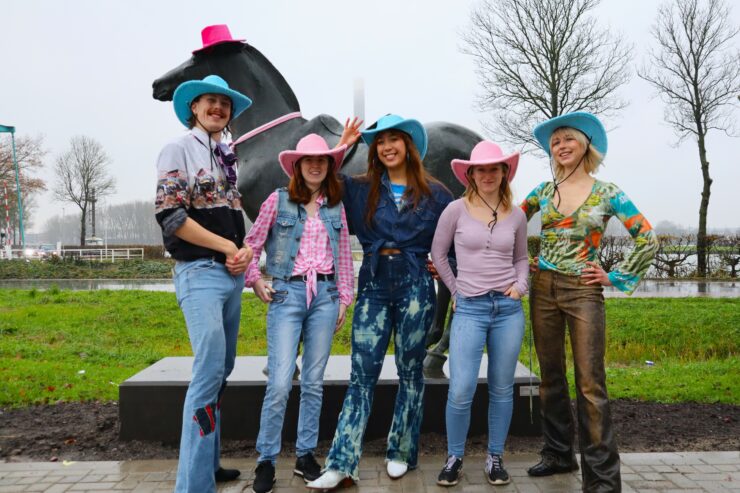 Hey there fellow AKT'ers. We (Max, Lucie, Eva, Sandra and Ginny) are the Feessie or the party committee. During the committee year you will see all different kind of parties and other parties related AKTivities. We like to show all different kind of parties that exist and ways that you can Party. We hope to see you at all our amazing AKTivities.
Ayo, I'm Max the Chair of the Feessie. I'm 22 years old and now in my fourth year of Media and Culture. Like everybody in this committee I like parties, but what I enjoy even more is Paddington 2. This is the best movie ever made. Every time I want to relax on the days that I don't party I watch Paddington 2. It is so wholesome and it looks like a Wes Anderson movie a lot of the times. I don't believe in guilty pleasures but if I could have one it will definitely mine.
My name is Lucie and I'm the Treasurer of Feessie! I'm a dutchie who loves to play games, go out with friends and who tries to do some fitness once in a while ;). I played badminton for more than ten years but stopped because I wanted to start dancing. I love dancehall and afrodance (music) a looot. I definitely intend to have a party with this music genre for sure, hehe. Something not a lot of people know about me is that I danced ballet. But, don't worry, I will not perform those moves on a party. I'm existed to see  your dance moves. Let's dance!
Hi, my name is Eva and I'm going to be the Secretary of Feessie for AKT this year. I'm here cause I would like to think of myself as organized (not always, I'm a scatter head), I'd love to meet more fellow students and attend parties now that I can after covid.  I already really like my team, but now more about myself: I'm 21 years old, I love watching LOTR an unhealthy amount of times, drawing, reading books (Jane Austen, fantasy), music, sports, going for a walk, mythology and just doing fun things like going to a museum! Fun fact: I still sleep with plushies and collect them as well! Also, one of my nicknames used to be katertje, which didn't even come about as a result of a party.
Howdy! I'm Sandra, the PR (proper raver) of Feessie and originally from Finland. Don't ask me how I ended up in this city, it's still a mystery to me too. I'm 24 years old and doing the first year of Media and Culture at the moment. That being said living in Utrecht for the past year and a half has definitely been a blast. I love a terrible dad joke and despise ketchup, but I would sure like to catch up with y'all at our next party!
Hi there! My name is Ginny and I'm the Location-Coordinator of Feessie! I of course like a good party myself, but also find lots of fun in organizing them, even if it means that you have to be responsible 😉 I especially like themed parties, because I like to dress up and create fun matching outfits with my friends! I'm a fantastic photographer, well… on the dancefloor, as one of my party-traits is that while at parties, I have this tendency for making 1000 photos with everyone and everything, some friends absolutely despise me for it, since not every moment and look is super photogenic, while other friends actually appreciate it since our fun moments and memories are guaranteed to be captured 😉