AKT on Stage
Podiumcommissie
aktonstage@akt-online.nl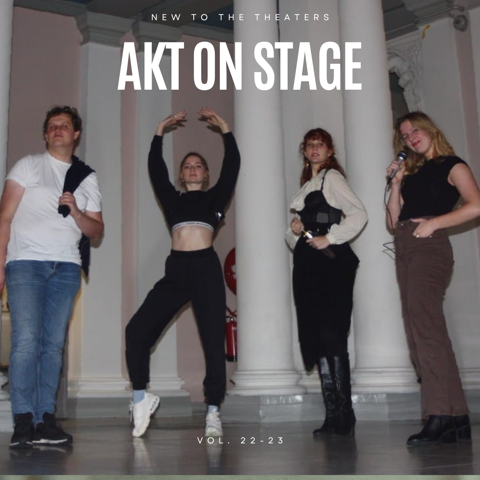 Hello to you all dear AKTers. We Rachel (Chairwoman), Claudi (Secretary), Herman (Treasurer) and Lara (PR-Official) are AKT on stage. This committee organize activities around everything that has to do with a stage. Music, theater, musical, comedy, dance, magic and many many more. We will be organizing karaoke nights and a talent show where you can show of your talents! But that is not all, keep an eye out on our AKTivities on the Instagram page of AKT and we hope to see you and all your talents there! Our members will proudly introduce themselves for you:
Hi there, I am Rachel Erin Harbison and I will be the Chairman of the AKT on Stage committee this year! I am an international student from the United States and I love all things to do with theatre, film, or anything fictional, fantastical, and well-costumed. The plays of Shakespeare have long been a specific love of mine and I have dearly missed getting to work in productions like these since I moved to the Netherlands, so AKT on Stage seemed like the perfect way to reconnect with this passion. I am so excited for this year and hope that our committee can bring some of this love for performance to our fellow AKTers and spread the joy of the stage to everyone we can.
Hello, my name is Herman and I am the Treasurer for AKT on Stage this year. I joined AKT on Stage because of my love for music and performing it specifically.  I play the piano and am currently attempting to learn the guitar. While I have performed live a few times I grew away from it for a while, but the pandemic gave me an opportunity to get back into performing music again. Because of this I joined AKT on Stage so I could also help organise opportunities for other people to try performing music live. I hope to see you all at our activities this year.
Hey! My name is Claudi and I am the Secretary of AKT on Stage this year. As a second year media & culture student I fell in love with the stage and everything around it since I was a little kid and pretended I was in the biggest musicals while dancing in my own room hehe. I am a dancer myself which I still love doing and music remains the thing in which I can express myself the best. I am excited to be a part of this committee this year and can't wait to see y'all on our on Stage activities!
Hello cuties! My name is Lara van den Bergh and I am proud to be in AKT on stage as the PR-Official this year! Since I was very young i am interested in everything that involves a stage because of my mom, who also loves it! Trough my life I have been dancing, singing and acting and I loved it. I also work in a theater in The Hague called Diligentia and therefore I get to see a lot of theater for free :)! I would really love to play an instrument but I have to learn it first since I play none. Can anyone maybe help me or give me lessons :)? I hope to see you all at all the amazing activities that our a committee is going to organize for you all. SEE YOU THERE <3