Alumnicommissie
Alumnicommissie
alumni@akt-online.nl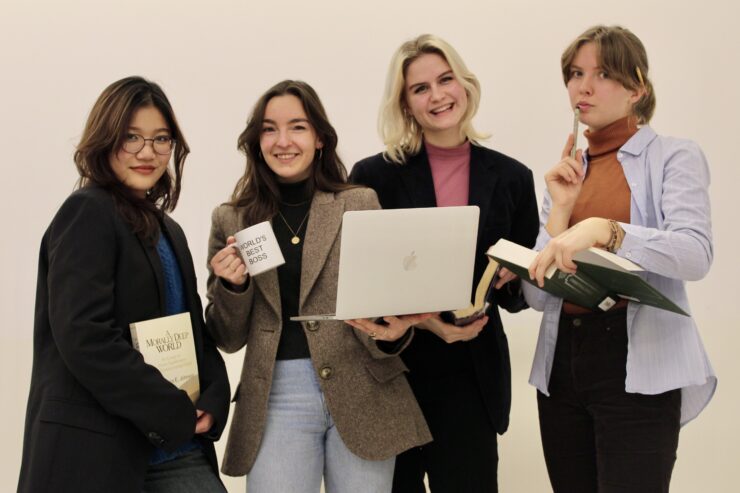 Hey! we are Eefke, Uyen, Sietske and Bo, together we are the new education/alumni committee. With our committee we will organize all kinds of activities related to education, career, and alumni. We all want to make the bridge between university and career easier and make it clear what you can do with Media and Culture after your studies. Hopefully we will see each other at one of our activities!
I am Sietske (Chair) and as a third year student I am really looking forward to explore the not only the bridge between university and entering the working field but also the media network itself. We are going to look for the most fun and interesting activities to organize to not only help students get a more clear picture of the working field but also show you the variety of things you can do after your bachelor! I hope to see you all at the activities, it will be fun for sure!
Hey guys, this is Uyen (Treasurer)! I am a first year Media and Culture student in the English track. Most of the time, I do not plan ahead or know where my life is heading, especially with my studying and my career path. I joined WorkaholAKT because I want to organize events that would help others who are also struggling like me!! So come! Come to our activities and events if you also do not know where your life is heading, you guys are all welcome and we will assist you!! <3
This is Me! My name's Eefke Baalbergen (Secretary) and I am a first-year student of Media en Culture (dutch-track). While I used to see a bright future in which I played in grand musicals around the world or became the greatest painter of all time, now I'm studying Media and Culture and I'm certainly not sure of what life will bring. That's part of the reason why I wanted to be in WorkaholAKT, to get and give perspective of the future of a Media and Culture student. Because even though writing reviews about Ghibli seems like a great job, I'm positive that there is a lot more to discover!
Hi all, I am Bo (PR-Official) third year student. I am really excited to start organising activities related to eduction and the alumni. What I especially like to do is to make the bridge between university and starting work smaller and clearer. After all, I would like to know what is possible during my studies and afterwards. For example, I might later want to work on tv shows like my favourite series Fleabag, but how to get there is still vague. With the activities we are going to organise, we hope to give you an idea of how you can achieve this. I hope to see you at one of our activities!