PLAKT
Tijdschriftcommissie
plakt@akt-online.nl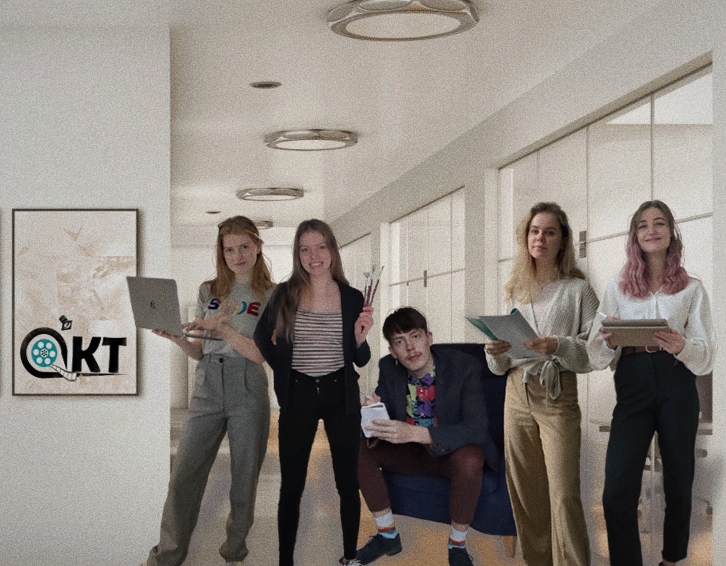 Hello fellow AKT'ers! We are from left to right: Parel, Louana, Max, Joyce en Anouk. Together we are this year's PLAKT commission. Four times a year we publish an awesome magazine filled with a ton material for reading and activities. Our first edition comes all ready out in January so get this great magazine!
First up we have Max Baalman (20)  the chairman of PLAKT. He likes everything about media and art, he conveys this liking to other people with enthusiasm and a willingness to discuss it. He likes to write about his experiences and PLAKT is a great place for him to share them with the rest of AKT. He is the chairman of PLAKT so if you have any questions about the magazine or anything, else go crazy and ask me. 
Parel (21) is our secretary and has a great passion for music! When she isn't  not playing, you'll see her looking for new artists to listen to. When quarantine isn't spoiling her plans, you can also find her on the tennis court. But when quarantaine IS spoiling her plans, you'll find her binge watching some good movies and series. She compares herself to Chandler, always in for a sarcastic joke when uncomfortable. 🤷🏽‍♀️
Third is Joyce Reuvekamp (20) this year's treasurer. She enjoys  watching movies and series, but besides this she is the active one from PLAKT. She teaches group lessons in the gym, goes for a run sometimes and walks very frequently with her dog Tara. At the moment she doesn't live in Utrecht, but is planning to find something before the summer, so if you've got a free room around that time message me immediately ! ☺
With the pink hair there is Anoek van Gendt (20) and she is in charge of everything PR related. She really enjoys drawing, painting and journaling and is also a huge bookworm. Besides that she really enjoys cooking and baking (but make it vegan) 😉. She is always up for a chat about anything media related, but also available for chats about mental health! She really looks forward to creating some amazing PLAKT editions with this team!
Last but not least we have this year's PLAKT designer Louana Bellettini (18). She is a person who likes to write random stories and poems, but also enjoys festivals. In this crazy time, she can't go to her volleyball club and her side job at restaurant Meneer Wong, but she still likes to get a coffee-to-go and is  always in for a good talk, so if you've nothing to do; hit me up 🙂