Evenementen
AKT Gives You Love – Valentine Themed Week!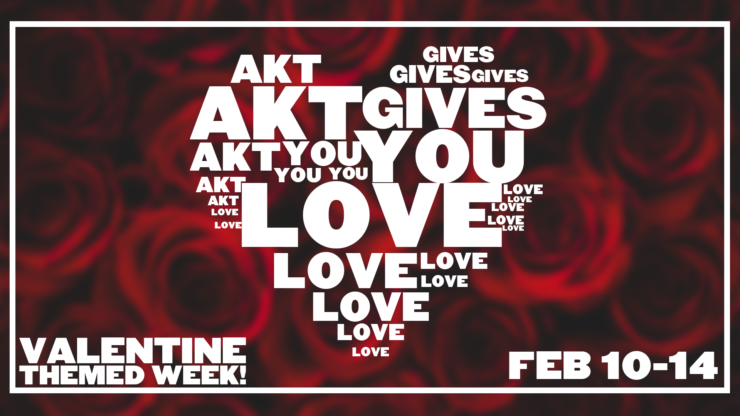 ---
Are you romantic and loving? Then your favorite day of the year is coming up: Valentines Day! In honor of this beautiful day, AKT will be love-themed for a whole week! From February 10 till 14, the AKT Office will be all about love.
This year, you can once again send roses to fellow AKT'ers, so that you can send a beautiful rose to your best friends, amazing partner or secret crush. You can send a rose fully anonymous or you can publicly declare your love to your beloved one. From Monday February 10 until Wednesday February 12, you can buy one or multiple roses at the AKT Office between 11 AM and 3 PM. If you receive a rose from a secret lover, you can come pick it up on Thursday February 13 or Friday February 14! Come to the AKT Office in the Theme Week and find your true love! You can purchase a rose for a small price, so what are you waiting for? 😉
We also have a lovely activity planned: Love Match! Thursday February 13 "Love Match" will be played from 11 till 15 at the AKT office. Come to the office with your favourite AKT'ers and find out who your perfect match is through different questions!
———————-
Ben jij romantisch en liefdevol? Dan komt jouw favoriete dag van het jaar er weer aan: Valentijnsdag! Ter ere van deze mooie dag geeft AKT de hele week liefde op het AKT-kantoor. Van 10 tot en met 14 februari zal het kantoor in het teken staan van de liefde.
Ook dit jaar zal er weer een rozenactie op kantoor zijn, zodat jij een mooie roos kan sturen naar je beste vriend, geweldige partner of geheime crush. Je kan anoniem een roos sturen naar je secret liefde of openbaar de liefde verklaren aan je geliefde. Van maandag 10 februari tot woensdag 12 februari kan je op het AKT-kantoor tussen 11:00 en 15:00 een of meerdere rozen kopen met een kaartje waar je iets op kan schrijven. Dit kan volledig anoniem! Als je een roos ontvangt van je geheime aanbidder, kan je deze op donderdag 13 of vrijdag 14 februari komen ophalen! Kom dus naar het AKT-kantoor in de themaweek en vind je ware liefde! Een roos koop je voor een klein prijsje, dus waar wacht je op? 😉
Verder hebben we ook nog een liefdesAKTiviteit op de agenda staan: Love Match! Donderdag 13 februari kan er van 11:00 tot 15:00 "Love Match" worden gespeeld op kantoor. Neem je favo AKT'ers mee naar kantoor en kom er door middel van vragen achter met wie je grootste match is!
februari

2020

ma
di
wo
do
vr
za
zo

10

Board information ev…

AKT theme week Valen…

• •

11

OC koffie-uurtje

Career night

• •

26

Second General Meeti…

Monthly borrel + PLA…

• •