AKTie
Sports, game and summer camp committee
aktie@akt-online.nl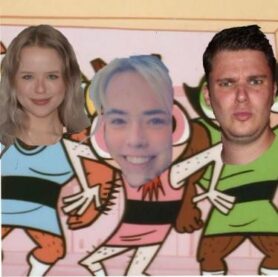 Jelle:
Hey y'all! My name is Jelle, 24 years old, and I will be the new chairman of the amazing committee called AKTie. One of my passions is playing games. Challenge me in a game of FIFA, Catan or "toepen" and I am 100% sure I will beat you. Another one of my huge passions is sports. I am a big sports fanatic with formula 1 and american football as my two of my favorite sports to watch, but have no bigger passion than football. Football is a big part of my life. Football is our one common language when the whole planet stops for 90 minutes to be witnessed to that one thing we all understand. You can tell me I am wrong, some may say it is just a game, but football is about heroes, tribes, loyaly and devotion, it is our commitment and our passion, our battle and our believes.If it is not clear yet, I play football. But that is not the only sport I do in my spare time. I also play tennis and I love to go on a skiing holiday. This year I will have some big shoes to fill as my predecessor was an experienced AKTie member, but that wil not hold me back. I hope to bring, with this phenomenal group of people, every AKT member fun "AKTiviteiten" this year and lots of fun.
Pauline:
Hey guys! I am Pauline, the new Treasurer (definitely) and Activity Coordinator (for now) of AKTie. Nice to meet you 🙂 I am an international student from Germany, Essen (Fun fact: Essen means food in german) so if you start talking to me in dutch, you might get a very confused reaction from me. Sorry for that. Fun fact about me: I love games. All forms. Board games, video games and sports. I used to play hockey for around 9 years and then switched to martial arts. Capoeira and Brailisen Jiu-Jiutsu to be precies. Questions I get about that: No, Capoeira is not a dance. Yes, I have been kicked before. Yes, I have someone kicked before. No, it wasn't on purpose. No, I cant do a backflip(I tried and it hurt). Anyway, I think we are having an amazing and creative team with a bunch of really cool ideas for activities (seriously we are pretty cool, come and hang out with us) I am a bit of a geek, so sorry in advance for rambling over my newest obsession, I solemnly swear to keep it at a tolerable level.
Charlotte:
Hi fellow AKT'ers! My name is Charlotte, I am a second years Media and Culture student (Dutch track) currently following the film course. I am AKTies new PR-official and Secretary! I absolutely love games in every shape and form. The sims, Exploding Kittens, Tokaido, Risk, Boonanza, or just a simple card game – you name it. While my fellow committeemembers are both quite sporty and practice very cool and tough sports I myself am more into the ''girly'' sports – I used to do gymnastics and did dance for almost 14 years. It's perhaps better I don't participate in athletic things that much as I'm quite clumsy when it comes to sports, I've gotten injured during gym classes on more than one occasion. (Just ask me about it when you see me at one of our AKTivities, they make for good storytimes!). I may not be all that athletic or sporty, but I do have a different strength to bring to our committee: being creative! I love arts and crafts, painting, making music, baking and most importantly organizing fun themed parties for my friends. I plan on using these skills to make our AKTivites this year the best they can be.
We hope to see you all soon at our AKTivities! <3