AKTie
Sport-, games and summercampcommittee
aktie@akt-online.nl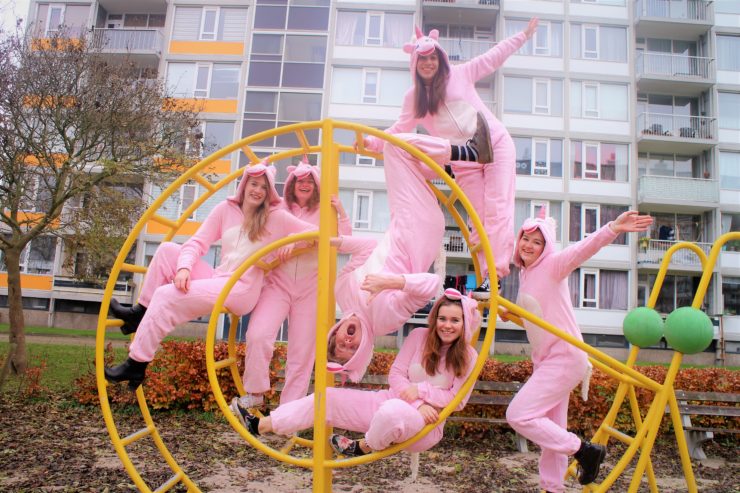 Dear AKT'ers,
We proudly present the Sport, Play and Summer Camp Committee. Are you ready for some AKTie?We will be making sure you will get plenty of distraction from your boring lectures by organising the most bonkers AKTivities you can imagine! We keep you in shape with sportAKTivities while also making sure you get enough beers (gotta keep your beer-belly in shape). Finally to make it all even more awesome we will conclude the year with a kick-ass summer camp!
But who are "we"? Let's introduce ourselves using our favourite AKTion hero:
Our chairwoman Isabel is as fearless as her hero Alice from Alice in Wonederland. Alice won't be retained by what the world thinks she should do! Dit I say Alice… or Isabel? 😉
Lucille will take on the feared duty of treasurer this year. Her AKTionhero is Uma Thurman from Kill Bill. She is blond, reckless and badass. Lucille also, now she only needs a samurai sword.
Our secretary Jip picked Judge Dredd as his hero, because Dredd is cool and self-assured. "Oh, and he has a very cool deep voice!"
PR-functionary Desi thinks Forrest Gump is a true hero. Gump has all kinds of crazy adventures, but he always stays true to himself. How does that one quote go again… "AKTie is like a box of chocolates… you never know what you're gonna get."
AKTivitycoördinator Lisa has Tris from Divergent as her personnel AKTionhero, because Tris is a go-getter who does everything to get better and stronger, and she lets nothing stop her. An ideal sport coordinator, right?
The personal hero for AKTivitycoördinator Ilsa is the bunny Judy Hopps from Zootropolis. Why Judy? "Because she is optimistic and cute!" There might be a resemblance here…?
We are looking forward to seeing you at one of our activities!
With love,
AKTie
PS: You can recognise us at our activities by the pink unicorn onesies we'll be wearing.