AKTie
Sports, game and summer camp committee
aktie@akt-online.nl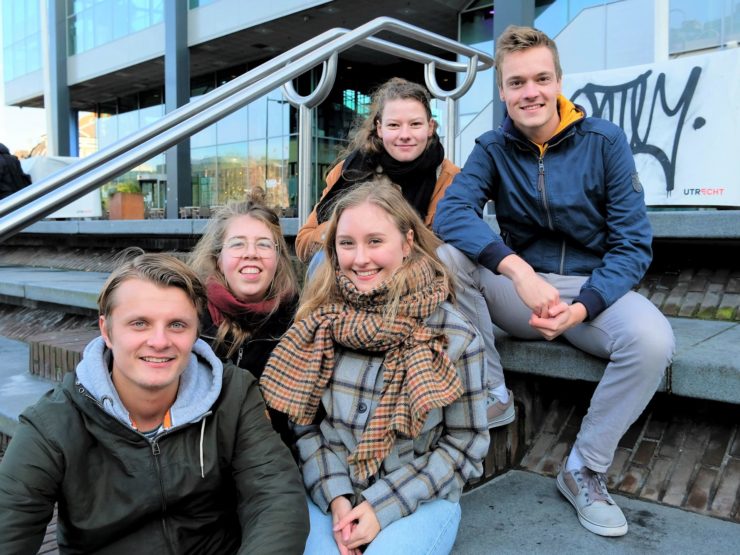 Buckle your seat belts boys and girls, AKT members or whoever is reading this at this spectacular time in your life because in one short page, we will introduce to you the amazing members of AKTie 2019/2020!! We are all super excited to organize a lot of cool sport/ game activities!  Because we are all super fanatic and sportive, we will introduce ourselves with a personal anecdote of our biggest sport/game blunder. So, sit down, relax and enjoy! (It is probably one of the best things you will read in a 5-minute time frame.)
Laura – Chairman
Hi guys! This year I (Laura) will be the chairman of the greatest and most multidimensional AKT committee; the AKTie! This girl has not tried out a lot of different sports, because when I was 11 I discovered that my passion lay with dancing and I have never stopped doing that ever since. However, before I discovered this sport, I was… yeah… a horse girl. After practicing this sport for two years, yes horse riding is a sport (!), I was done with it again. Especially after I had to ride on the most terrible horse of the entire riding school and fell off it several times in one lesson … not a great experience haha.
Roos – Treasurer
Heeeyy everyone!
My name is Roos and I will be the treasurer of this year's AKTie 🙂 I am 20 years old and I have lived my whole life in Utrecht, so if you can't find something in this beautiful city, don't bother to ask me. Sports are a great hobby of mine, I used to play tennis when I was little and a little later, I played soccer. Also, I really love to ski in the winter. My biggest sports blunder has also to do with that. When I was about six or seven years old, I was standing still on my skis and went down on my heels (don't ask me why I did that). But then I was moving forward downhill and couldn't stop anymore or stand up. I almost skied into a terrace which was downhill from the ski slope. But fortunately, I could let myself fall just in time, so nobody was hurt. Except my dignity, because I looked really stupid. But well, I was young, so probably I didn't care.
I am really looking forward to organising all kinds of sporty AKTivities with my lovely committee!
Jort – Secretary 
Hi, my name is Jort and I'm the new secretary of AKTie. Ever since I was a child, I have been very fanatic when it comes to sports and games. I can hardly stand my loss and prefer to be the best in everything. Once I was challenged to 'bench press', I thought that would be fun to try (I still don't understand why). Because I thought I could handle somewhat heavier weights, I started to change the weights with someone else. I was messing around to get the clamp open while on the other hand the weight was already off.  You will already guess it, the barbell with the weight tipped over and came on my foot. After that I had to walk like a penguin for a few weeks, because of the pain.
Gijs – PR Official
Hoihoi!! My name is Gijs and I'm the youngest member of AKTie with my 18 years (Heeuujj Sjaars ftw!) This year I have the honour to be the PR-official of AKTie and I am ready to rumble! I am a real sport freak and my brothers are also fanatic athletes. So, there is almost all the time a competition between me an them. Surprisingly, my sport blunder didn't happen during a game against my brother but during PE when I was 15. The teacher told me and my friends that we were going to shot-put, but my friends and I had a 'better' plan. Instead of throwing the metal balls, we dropped them together near out feet. We did this a couple of times. But at some point, I was already trying to grab my ball when my friend dropped his ball. So, my friend's ball landed on my left index finger and shattered it. But hey, you know what Kelly Clarkson says: ''What doesn't kill you makes you stronger.'' So now I have a very muscular finger #goals.
Maartje – Activity Coordinator
Hi!! I'm Maartje and I'm the new activity coordinator of AKTie. When we came up with the idea to write something about our biggest sport/game blunder, one story immediately came into my mind. One time I was doing yoga. I was there and the rest of the people were like the "cool mom" type of people. The instructor told us to do the downward dog. (Google it of you don't know this position) But then all of a sudden I farted. Everybody must have heard it. Me and my friend, with who is was there, were able to make a joke out of it, but the rest of the group made it really awkward. That definitely is my biggest sport blunder.